It's been almost a year since Facebook rebranded itself as META. Although the company has shown interest in virtual reality, it remains unclear how the Metaverse can realise its full potential. The Metaverse offers a seamless fusion of gamification tactics, virtual influencers, interactive live events, selling and buying blockchain-enabled goods and services, and more.
Whether agencies are ready to migrate their digital identity into the Metaverse or not, brands are already exploring this space. Agencies of the future will have to adapt to stay relevant in the future virtual world.
What is the role of an advertising agency in the metaverse?
Metaverse is the current buzzword for a community of third-party developers, with more than $54 billion spent on virtual goods, almost double the amount spent buying music -MatthewBall.vc anyone can develop their software and applications for users. But it's not just users trying to become part of the Metaverse, brands have also jumped on the bandwagon to create unique experiences for their customers, and so far these early iterations have shown promise for the future of marketing and also for bringing agencies into the conversation.
In today's hyper-connected world, brands need to create holistic customer experiences that integrate digital and physical touchpoints by providing immersive experiences in the physical world. These outstanding experiences can be used to gather more information about consumers, enabling hyper-personalisation and continuous improvement to strengthen control over the consumer experience.
The first and most important point in advertising in the Metaverse is to keep Gen Zers in mind as your customer value. These generations are frequent users in various forms of the Metaverse and in VR platforms like Roblox.
So let us explain how this Metaverse experience can be part of your strategy:
Virtual Reality Billboards
Advertising on VR is one of the things marketers can offer in the Metaverse. It's easy to design and can be inserted into existing apps or immersive experiences. The opportunity for agencies with this type of advertising is the high engagement due to the resulting level of immersion. In-game ad spending is set to reach $18.41B by 2027 (IPS News), so this market is going to expand massively.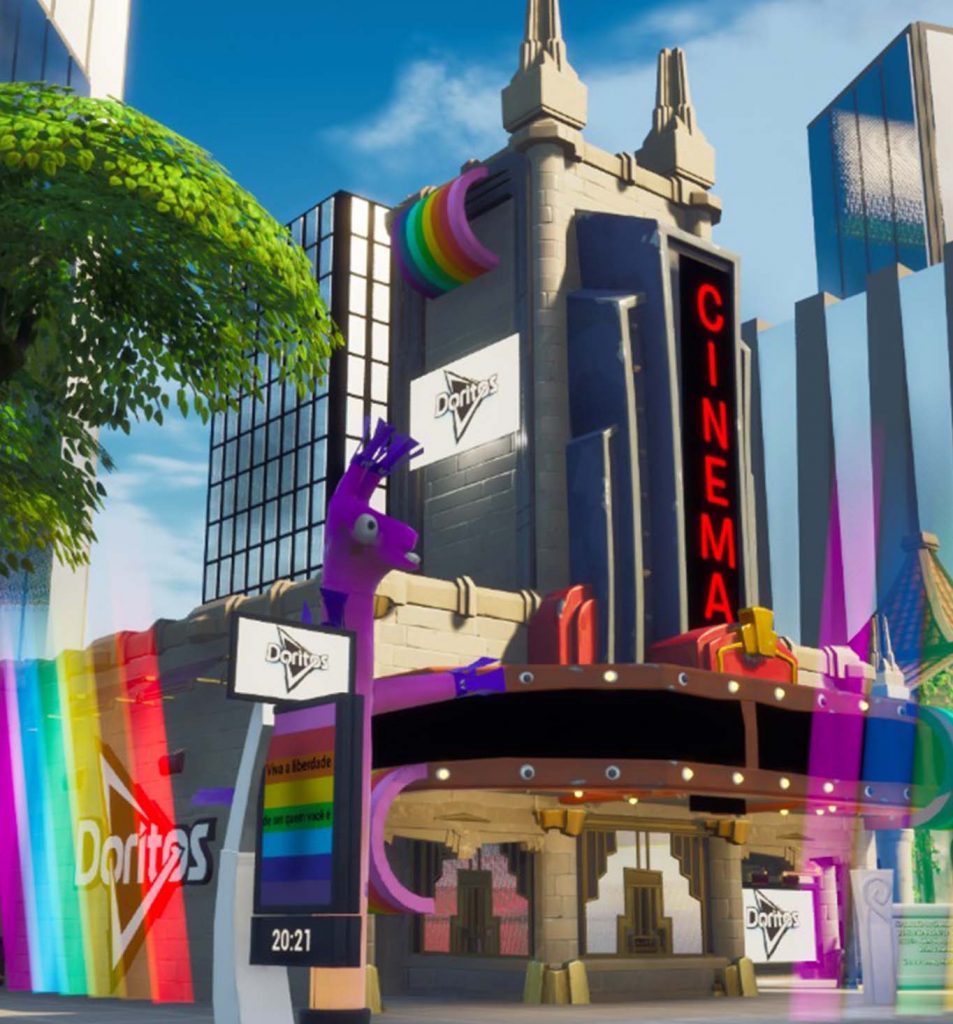 An example of VR billboards is the case study of Doritos. To celebrate LGBT+ Pride, Doritos Rainbow partnered with Fortnite to create an LGBT+ parade-themed map of Paulista Avenue (Brazil). Doritos Rainbow has reiterated its support for the community with several famous spots on the avenue adorned with rainbows and the LGBT flag. Beneath the game, the booths and stations feature the Doritos Rainbow-themed virtual reality billboard. The experience was only available for one month.
In-game ad spending is set to reach $18.41B by 2027

IPS News
Immersive experiences
Brands can create VR events or experiences that allow users to interact directly with their products, visit virtual showrooms, fashion shows and fitting rooms – all without leaving the metaverse.
Samsung had success with immersive experiences by creating a replica of its New York flagship store in Decentraland. This is a blockchain-powered virtual space where you can buy and sell exclusive digital goods such as properties and wearables. The experience was divided into three parts, showcasing the brand's new products. Samsung also integrated NFT'S into the platform, allowing users to participate in challenges to win 837X badges in the form of NFTs.
Thyga leverages authentic and engaged micro-influencers and when combined with paid media Thyga reaches millions Drive real-time events through AI-powered marketing. 2022 will be the year when boundaries are pushed. AI offers the ability to get unique information from users which can help agencies create personalised events for brands in the Metaverse. It's important that brands find a pattern or subculture that already exists on the platform, lean into it and provide real value to the audience. The brand needs to be real to create a presence in one of the Metaverse worlds.
In our Consumer Trend Report 2022, we mention that 58% of marketers believe B2B marketing events will be hybrid in two years. This indicates events will be a key driver for the future in the Metaverse.
One word to keep in mind is "phygital". This term refers to the combination of two environments: online and offline (physical + digital: phygital).
Collectable or unique things
Play to Earn has been popular in gaming for a long time, but it's now making its way into the Metaverse, facilitated by blockchain technology.
The shared virtual world where users interact as avatars heavily incorporates blockchain, cryptocurrencies and NFTs, with virtual objects and properties represented by non-fungible tokens.
This can be an incredible opportunity for brands to play here, shifting from the classic "give away" to a model where the audience has to earn what they get from the brand. The brand can offer exclusive prizes or collectibles that can be bought by players with NFTs.
Following on the sentiment of people collecting things, another new platform growing in popularity is Exeedme. Exeedme is a blockchain-powered tournament platform allowing gamers at all levels to monetize their skills while playing their favourite games.
The revolutionary concept around Exeedme is that its technology will enable the majority of earnings in its economy to go directly to gamers, meaning players no longer have to be professionals to earn money playing video games. Exeedme earnings are distributed fairly and the platform provides gamers with honest rewards and control over their earnings.
Explore the future
Digital marketers are living through an exciting time. As the platforms on which businesses can reach their customers evolve, so do the number of ways businesses can connect with people. While there are guiding principles for the strategies and tactics marketers should use, the Metaverse is still a generally new platform with plenty of room for experimentation. Best practice has yet to be established and paradigms have yet to be fully and comprehensively created. This gives agencies room to be unique and experimental with their approaches.
Now is the time to test the waters. The Metaverse is a new experience and agencies can explore what brands specifically need and what works best for them. Once they have identified brand goals, they can look for opportunities and adjust the target. Some brands may want to target younger consumers, while others want to communicate their values or messages in a way that they can't through traditional means.
The advantages of virtual influencers for brands and agencies
With new technologies and the new "digital people" on everyone's mind, agencies will in the future be able to offer virtual influencers or work with those that already exist.
Virtual influencers are becoming a real force on social media platforms and in the Metaverse and more and more brands are engaging with this futuristic means of digital marketing. As we mention in our Consumer Trends Report 2022, the global market for augmented and virtual reality devices is expected to grow by more than 50% this year, reaching a total of 9 million units shipped-International Data Corp
The global market for augmented and virtual reality devices is expected to grow by more than 50% this year, reaching a total of 9 million units shipped.

International Data Corp
Brands can utilise virtual influencers in the Metaverse as well as on social media, with some considering this type of influencer to sell products through live video shopping.
As the Metaverse gains power, more and more consumers will join its expanding forces. Experts predict that by 2022, more than 20% of all smartphone users will be active participants in the Metaverse, making it ripe for brands to join. In this case, brands looking to make sensational headlines and distinguish themselves as early innovators will test and learn how Metaverse evolve or connect more with tech-savvy Gen Z-ers.
People working in brand marketing or leadership positions should think about how to unleash their creativity and storytelling skills. Agencies need to create unique experiences at every point of the customer journey.
Preparing for the coming changes in the Metaverse is an important tool to ensure the success of marketing strategies. As we move into a whole new age, we will essentially live in two different realities: the offline world we have always known, and the other will be a virtual representation of the world around us. In this new reality, it will be paramount for agencies to reach their customers through a source they both know and trust.