Samy for Change was launched with the purpose of giving a voice and taking action on different social causes that affect us, directly or not, in our day by day. By unifying our forces and approaching different perspectives, we cannot only understand each situation better, but also try to provide different and more efficient solutions.
This 2022 we worked both digital and physical.
Unlittering
We do believe in the saying "practice what you preach". If we want to have a healthy connection with our environment, we need to take care of it, and that is why we created the initiative Samy for Nature. This way we can also give an example of how easy it is to be part of a responsible community, to set a path that others can follow.

Basuraleza was our unlittering campaign, a space to gather up as a team, work together cleaning out trash to reduce pollution for nature conservation. To bring these words to action, we reunited more than 40 Samys in Spain and cleaned the garbage in 5 km2 of land, while it still worked as a bonding situation, what actually matters is that we put some effort together and helped our environment at the same time.
Earth Day
On April 222, and to show our commitment to environmental protection, we gathered more than 60 SAMYS to celebrate a unique event: we took a trip to the mountains to reconnect with our planet and our team members and finished our day by holding a meditation with The Holistic Concept.
The mission of this program Samy for Change is to have a significant impact on any cause we want to fight for, and it is always open to any proposal you want to bring to the table. 
Ukraine
We acted as fast as possible to gather up all the help we could for our brothers and sisters from Ukraine as soon as the war started.
From internal and external resources and efforts, and in the span of a couple of weeks, we managed to send out more than 3 tons of donations, packaged in +300 boxes, full of food, clothing, medicine and equipment.
We all did our bit to help as many people as we could, but we know there is still a long way to go, so we will keep helping as we can, and praying for all this situation to end.
Better Together
It is always easier when we all participate, from our end and within our own possibilities. That was the case with our latest project that finished a few weeks ago, which was brought to us by one of our colleagues from Spain.
We got in contact with pastor Gonzalo Ruipérez, who each month has served more than 60,000kg of food to Spanish families in need since the pandemic started. We ran some numbers and discovered that with a small amount per person, we could be able to create a great impact.
We accepted the challenge and started the donation rounds, and the results came really quick: it took less than 14 days of internal donations, and we raised enough money to feed 88 people in need during Christmas.
Underpressure for Samy for Change
This was our main digital project of the year, where we invited a panel of digital experts and influencers to talk about social media's impact on mental health, with a special focus on GEN Z users. It was, as well, a great chance to collaborate with ESIC Business Marketing School.
To not be a theoretical talk, we had with us the activist influencers Laura Rouder and Dani Marrero, so we can understand the POV of the generation that is extremely exposed to social media, and have a peek at the good and bad consequences and how they deal with them.
After that, we listened to some area experts, such as Ricky Pombo from our SAMY house, Celia Curiel from CALA Psicoterapia and Julio Alard from ESIC, all moderated by Santiago Fontenla, another team member.
With these actions, we aim to understand in detail how different audiences can be affected by digital messages, why this is important to brands and how we can be responsible when creating content. The result of the event? More than 400 students gathered in a safe and open environment to discuss their worries and needs.
These all events are the result of teamwork, effort and the empathic and holistic approach we want to keep having during this year 2023.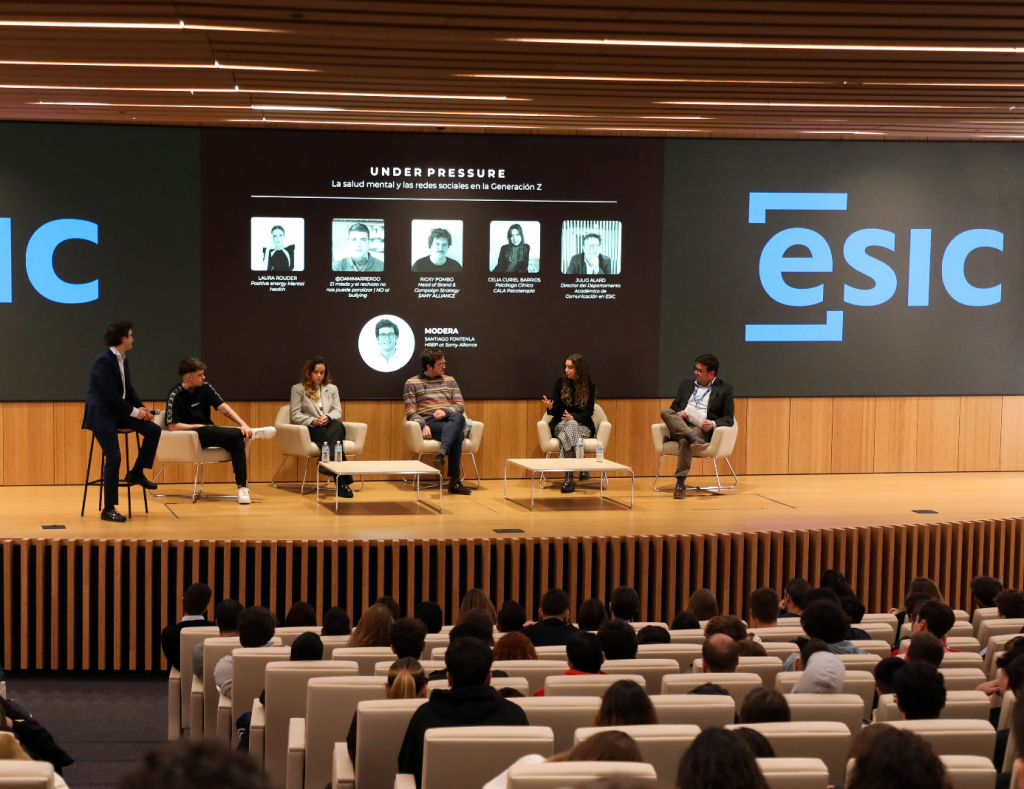 We want to thank you all for your help, and encourage you to keep bringing any social cause you believe in, so we can all be part of the change and try our best to boost the impact.