by Samy for Change
Samy for Change is a space within Samy Alliance in which we discuss and raise awareness about the social aspects that have the most significant impact on our daily lives. We work to define what we can do about it and how we should approach it as an agency, a marketer, or just a person. 
We work with the rest of the teams in Samy Alliance and fellow agencies to create a strategy that reaches our goal and impacts any social aspect that we´ve found and studied that needs awareness and our help.
The under-pressured generation 
Together with the ESIC Business & Marketing School, the Samy for change team had the opportunity to organize a meeting between social media professionals and specialists in the field to highlight existing social problems and the role of networks in increasing this pressure on people, especially on the youngest.
The event took place in Madrid on November 21, 2022, and we had the participation of two content creators with more than 220K followers who have carried out campaigns against bullying and cyberbullying, Laura Rouder and Daniel Marrero. In the debate, we also had the vision of Celia Curiel Barrios, a clinical psychologist specializing in adolescents and young people, and Julio Alard, Director of the Academic Department of Communication at ESIC, as well as with the analytical vision of Ricardo Pombo, Social Media expert at Samy Alliance.
The main objective of this event was to highlight the critical role that brands and content creators have in informing and raising awareness in society about hate on the networks and supporting the most vulnerable groups.
In recent years, social pressure among young people has increased significantly, with social networks being one of the main factors. According to a study by the International NGO Bullying Without Borders, cases of bullying worldwide continue to increase, where 6 out of 10 children and adolescents suffer some harassment and cyberbullying every day. On a social level, this is one of the main problems since 200,000 children and adolescents lose their lives every year due to these hate attacks. In addition, 3 million people are absent from their training centres every month due to the harassment they receive since more than 90% of the cases are not reported to the teachers.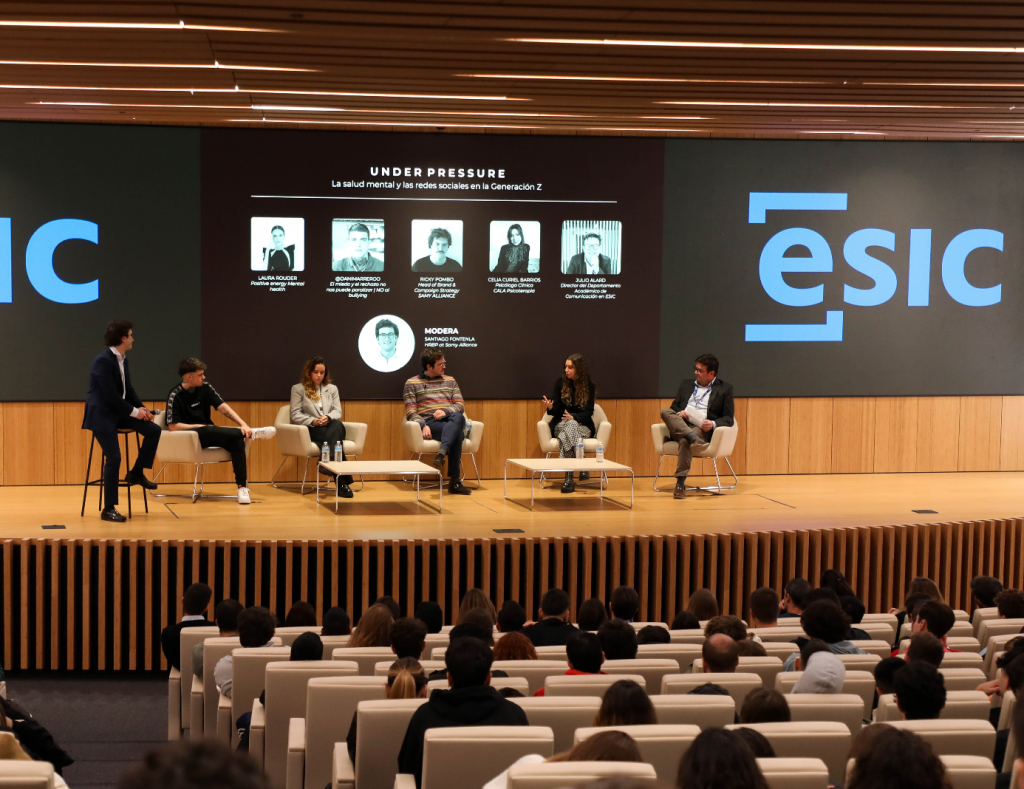 Highlight from the Capture Intelligence Mental Health In-depth analysis
From Capture Intelligence, a Samy Alliance agency specializing in Research and Data, we have conducted an in-depth analysis of mental health in younger generations. During this analysis, we monitored the organic conversations of young people on social media platforms. 
Thanks to this deep learning, we realized that Generation Z perceives tremendous social pressure in labour and academic matters. Even though social media often harms Generation Z, 74% say they spend their free time connected. During the analysis, we also learned that the 'Mental Health Million Project' provided scientific information on the mental well-being of the global population and concluded that 44% of people between the ages of 18 and 24 suffer from severe psychological problems. 
Depression will be the leading cause of disability among young people and adults in 2030*
The insights from the report
When listening to these generations, we've come up with several insights about this younger audience that determines their feelings towards social media and the environment.
An insight to stand out; social media platforms have become a place to open up emotionally. Social platforms are where they go to share their experiences, ask questions and even seek help/support with their problems. But social media platforms are also where their problems start. Some content can affect the perception of other people's lives, aesthetics and even the idealization of personalities.
The foremost opportunity is to transform social media into a safe space. Brands can help make social media platforms feel less of a hostile place. An example of this would be a community manager service responsible for responding to and assisting users with problems, contributing to generating an environment of respect.
This is just the first step of many
During 2023, Samy for Change will keep supporting this cause to help young generations live and coexist with social pressure media without suffering from it. We will keep raising awareness about this social issue between our fellow agencies and marketers and speak up for the most needed ones.