On Wednesday, December 21st 2022, we experienced the first-ever Metaverse event of Samy Alliance, the Innovation Samy Awards.
The whole agency had the opportunity to join the event through their avatar. Each member could illustrate their avatar and enter the Samy Metaverse as if they were entering an actual conference hall.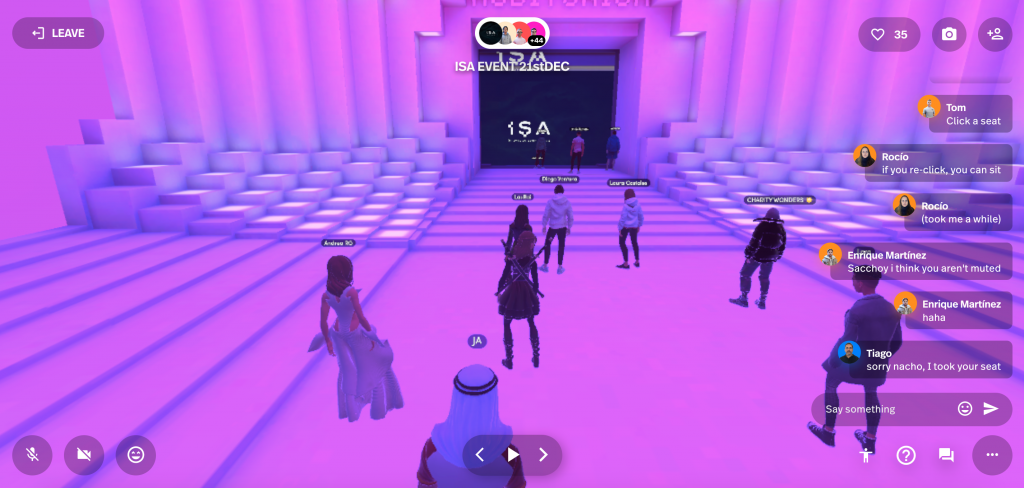 The objective of the ISA Awards
The purpose of celebrating these Innovation Samy Awards, along with encouraging our teams to experiment with their creativity and knowledge, is related to our main goal: to integrate innovation in every action we take. Also, by incentivizing coworkers to explore their potential and unlimited creativity, we can help them reach their full potential as part of the Samy team.
In the end, building loyalty and internal talent will make us stronger as a team and as a competitor toward the rest of the agencies out there.
The Categories
There are three different categories of the ISA awards; three different categories in which each project is voted: Product & Services, Organisation & Methodology and New Ventures.
The dynamic was the most classic one: the project with the most votes in each category is the one that wins the final prize.
The Jury
The Innovation Samy Awards jury is split by category.
For the current Products & Services category, the jury is formed by a Samy Founder, a product owner from each Nobox, SHARE and Samy; an outside industry expert and last year's winner.
For the Organisation & Methodology category, we have a Samy Founder, a COO, three country managers and last year's winner.
For the last category, New Ventures, we have a Samy Founder, a founder of each company, Harvey, Judy and Indigo, an outsider/advisor and, last but not least, last year's winner.
The finalists of the Innovation Samy Awards
Autex. Disrupting design through automation by Joshua Smith, Thomas Stephens, Sam Cross, Jake Napartek, and Katarina Lilius.
Autex: The automated experimentation tool.
Autex is about empowering people to create a great brand design, at scale but with originality, by automating experimentation. Autex has potential customers: Global clients looking to streamline their design delivery in-house, in-agency teams looking to produce better work through lack of time, independent creatives and content creators. Autex is a scalable framework that can be repurposed from client to individual user. And so, we can sell by-user, by-team and by-company.
Chatbot. Chat for brands by Raisa Quntana, Ana Gaitán, Martha Sierra.
Chatbot allows automating the process of communicating the payment status of suppliers/influencers, with the goal of solving current issues and creating an easy process for both ends, incrementing efficiency and reducing chaos. Having a good service with our suppliers would give us a differential point against the competition and would be the first step in process automation that will allow us to grow exponentially.
Lion. Learning Intuition on next by Ainoa Brenes y María González-Ubeda
Lion is about helping you find the right work-life balance, about keeping your mental state in peace, and about helping you reach your life goals without losing yourself.
How can you do all this? By working on our personal and professional capacities thanks to self-knowledge. Lion will accompany you and help you achieve your dreams and peace of mind by building you a roadmap according to your personal and professional needs. Lion will provide you with the correct tools to help personal & professional evolution, all through its AI-based platform which assesses people to find the best mental learning path.
Meta Infinity. Where meta happens by Tiago Stretch and Ricardo Lopes.
The one-stop shop to support companies developing strategies in the meta universes. A shop to help those who want to be part of the meta-universe, create a meta human, launch a meta product, or any other thing you can imagine that can happen in the meta-universe—the perfect strategy to enter this world and succeed in it.
SAMY Universe by Adrian Sagrebo and Adrian Lurbe
Samy Universe is a contemporary solution, which through the immersive technology of the metaverse, proposes new ways for HR management, corporate culture, interaction and communication with employees of the Alliance, or any company that uses this service, 24/7 globally. A gamification program that helps companies and employees to find a balance between their work and personal life.
All this is designed through professionals and programs of mental, occupational, physical and aspirational health with an objective of integral wellness that increases the quality, productivity and happiness of all parties involved—guiding, advising, listening, accompanying, training and inspiring the human team in the face of any difficulty through a system of benefits to generate a positive impact on both the company and the employees.
Samy Incubator. Helping start-ups reach their full potential with affordable big agency support by Max Dougall, Ediz Ibrahim and Joe Moring
An incubator that helps start-ups and small/medium-sized organisations to receive affordable big agency support from within the SAMY Group, the 'Pathfinders' for these brands. The goal is to create a set of packages that solve the leading issues start-ups face in the early years of their growth, which will be served at a fixed cost with set deliverables, each addressing different challenges. This concludes as a new revenue stream for the group by supporting and growing start-up brands from the beginning of their life cycle and helping them create growth, aiming to become a full retainer client for the group.
Time saver by Josefina Herz.
The idea would be to develop, with the "Product" department, the best version of a "Time Saver", a platform that creates a roadmap of actions, so the task that today takes 12 hours could be reduced by approximately 50% (12h / 2) = 6.
In other words, the goal is to reduce the time between the delivery of a brief to the presentation of a proposal, for example.
Time Saver would be within "Shinebuzz" in order to take advantage of a valuable resource that the agency already has, and take it to the next level.
And the winner is?
AUTEX !